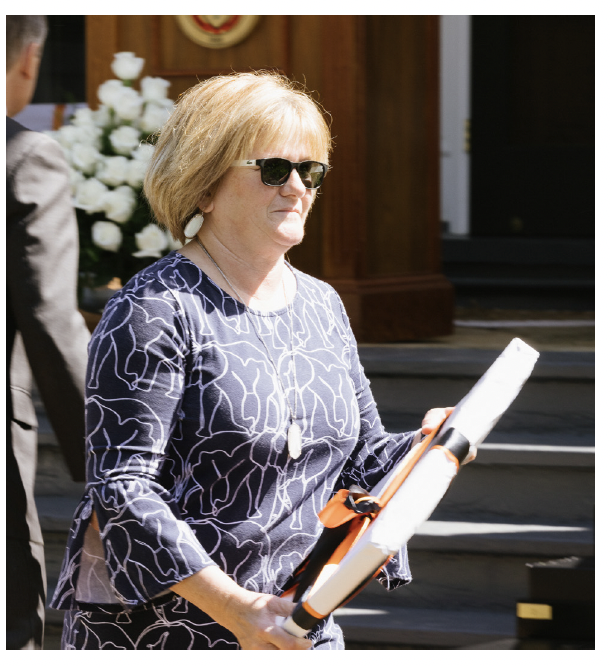 Debbie Barden is one of the people who keeps Woodberry running. As daily operations manager, a title she's held for five years, one of her jobs is to make sure all eighty faculty houses and apartments are in working order. Debbie is one of the first faces new faculty see the day they move onto campus as she welcomes them and helps them get settled and comfortable in the community.
Once on campus, faculty get to know Debbie as the engine behind the work order system used
to report maintenance needs. There are a lot of moving parts behind every work order and house inspection, but Debbie manages to keep it all straight while humbly refusing to take sole credit. "I'm not an I person; it's a we," Debbie said. "It's really the people who I work with. If it wasn't for the good group of housekeeping and maintenance workers, we wouldn't get the stuff done that we do.
"Debbie lives in Orange with her husband, Elby.
She enjoys gardening, reading, vacationing at the beach, volunteering at her church, and spending time with her two children, Christy and Eric, and her four grandchildren.
Former housekeeping supervisor Janet Cooper hired Debbie in 1986 to work alongside and support a grieving member of her staff, a demonstration of one of the values — caring for each other — that Debbie believes makes Woodberry special. She helps make Woodberry special for other people, too.
"When I first arrived, I knew no one," said Woodberry's mailroom supervisor, Emily
Henshaw. "Debbie took me under her wing and instantly made me feel welcome. She has a way about her that puts many people at ease."
After Debbie's start in housekeeping, she worked in the mailroom before stepping into her current position. Working in the mail room was outside of her comfort zone in the beginning, but she and Wendy Moubray, now a housekeeping manager, made the best of it. "We probably called the Orange post office every day to ask what to do with something," Debbie said. "But you push through it."
One thing Debbie enjoys about working as operations manager is the job's variety and how it challenges her problem-solving skills. And others recognize her talents — Debbie is often the first point of contact when anyone on campus is trying to solve a tricky problem. "Most people go to her first before they go to anyone else," Emily said. "They know she'll know exactly what to do or who they need to talk to. She is well known and well liked by so many."
At graduation, Debbie received the Frank S. Walker Award, presented to the staff member who "has given most unselfishly in performance of his or her duties." Debbie exemplifies this ideal, eager to help out in other departments when they need a hand, whether by helping with an influx of holiday packages in the post office or planting flowers alongside grounds crew members.
Gene Lewis, the director of facilities who has worked closely with Debbie throughout her time at Woodberry, said, "There are few employees that care about the Woodberry community as she has. She always volunteers for any task and lends a helping hand to coworkers, faculty, students, and parents."
No matter how many people tell Debbie that Woodberry would fall apart without her, she refuses to believe it. "You couldn't do it without everyone else who backs you up, who helps you," she said. "No one person can do it all on their own."