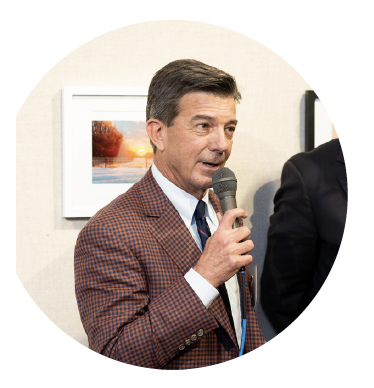 When Fred Lummis '71 arrived at Woodberry as a new boy, he was thirteen years old and had never been east of Texas, his home state.
"It was a major moment of growing up and figuring things out on your own," Fred said of his time as a student. "It was an experience that prepared me for the rest of my life."
After attending Vanderbilt University, where he met his wife, Claudia, Fred returned to Texas, earning a master's degree in business administration from the University of Texas at Austin and settling in Houston. The distance, his business career in private equity, and a busy family life meant he didn't have many chances to stay connected with Woodberry or his fellow alumni. That began to change when his own sons approached high school age. Though they didn't attend Woodberry, the experience of taking them to visit campus got Fred thinking.
"I realized that Woodberry meant a lot to me, and that reconnecting with the school and my classmates was important," he said.
Fred and Claudia joined the Advisory Council, and in 2012 he joined the board of trustees. Not long after becoming a trustee, Fred became chair of the finance committee, a role he held until his board term ended in November 2021. He helped the school chart its recovery from the Great Recession, transition from the headmastership of Dennis Campbell to that of Byron Hulsey '86, and respond to the economic challenges caused by the COVID-19 pandemic.
"The day-to-day financial management of Woodberry is fantastic, and the school's financial discipline and oversight stack up favorably with any company I've worked with," Fred said. "There's a focus on keeping costs down so that we can control the growth of tuition.
"Fred said he and other members of the finance committee carefully track how the school's tuition compares to that of its peers; last year only three of the top forty boarding schools had a lower tuition than Woodberry. The keys to Woodberry's success include both expense discipline and the durable, generous support given by alumni, parents, and others to the Amici Fund.
"The Amici Fund is all about what we do together; we control it." Fred said. He contrasts that fund with endowment funds. "The endowment's earnings are driven in part by the market, though our investment committee is an outstanding group of experts. The incredible alumni participation in Amici is a huge part of providing resources to the students and controlling the tuition cost."
Though his time as a trustee recently concluded, Fred continues to serve as a member of the executive committee of the Campaign for the Boys. He led a challenge gift to current and former trustees, which in turn inspired a $20 million matching challenge to the entire Woodberry community from those trustees.
"COVID had delayed us a bit, and I felt like we needed a kick start to reinvigorate the campaign," Fred says of his challenge gift, which will expand the Lummis Family Scholarship Fund and support the Walker Building renovation. "Giving to support tuition assistance spoke to me because I know the commitment families have to make to attend Woodberry. I want to make sure we are supporting the sons and grandsons of alumni and ensuring they can be Tigers."
Fred, who recently co-chaired his fiftieth reunion committee, continues to serve as chairman of Platform Partners, a private equity company he co-founded. He is on the board of several of Platform's portfolio companies and is part of the Houston Astros ownership group. He also serves on several other nonprofit boards and previously served as chairman of the board of Baylor College of Medicine.
Despite all of the calls on his time, Fred prioritizes his commitment to Woodberry for two reasons. "One is because I believe so much in the mission of the school and appreciate what it did for me," he said. "The other is because of the incredible quality of the educators and staff, as well as my fellow trustees. From top to bottom, it is an enjoyable and meaningful volunteer experience that you just want to be a part of."