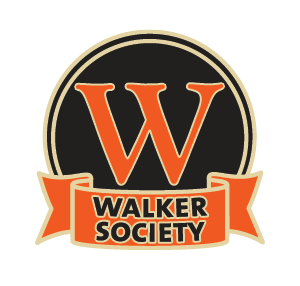 Woodberry's financial strength is built in large part on the estate gifts of alumni, parents, and friends. Most estate gifts support the school's endowment, providing perpetual support to the boys, faculty, and staff. In 1992 the trustees of Woodberry Forest established the Joseph G. and Violet N. Walker Society to recognize the special generosity of alumni, parents, and friends who have included the school in their estate plans through a provision in their will or as a beneficiary of a retirement plan, life insurance policy, trust, or annuity. The society has more than 584 members, of whom more than 400 are still living.
NEW WALKER SOCIETY MEMBERS
Anonymous '72
Mr. James P. Baker III '02
Mr. and Mrs. David P. Broughton '86
Mr. and Mrs. Oliver "Crom" Carmichael '67
Mr. and Mrs. Breaux Castleman '58
Mr. and Mrs. Robert H. Dobbins
Mr. and Mrs. Sumner S. Finch '75
Mr. and Mrs. William B. Fletcher '06
Mr. and Mrs. John P. Funkhouser '72
Mr. and Mrs. Steven P. Geiger
Mr. and Mrs. Stevens N. Gentil '70
Mr. and Mrs. Howell K. Hallett '72
Mr. John V. E. Hardy '34*
Mr. and Mrs. Tyler Meurlin
Mr. Harry B. Mills '60
Mrs. Caroline Reutter*
Mr. and Mrs. Roy L. Smart '72
Mr. and Mrs. William A. Stokes '73
Mr. and Mrs. J. W. Thompson
"Topper" Webb '72
Mr. and Mrs. Landon R. Wyatt IV '09
*deceased
---
Ty Tysinger '62: Sixty Years of Tiger Service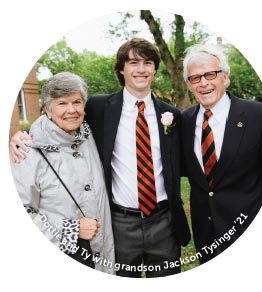 Travis "Ty" Tysinger '62 has seen Woodberry from a variety of perspectives. While plenty of alumni have become teachers or watched their sons and grandsons attend the school, few can say that they've been a student, three-sport varsity letterman, teacher, parent, development officer, volunteer, and grandparent. Ty, however, has done all those things in his sixty years of knowing the school.
A Culpeper native, he first came to Woodberry for two postgraduate years, during which he lettered in football, soccer, and baseball. He quarterbacked the varsity squad during the legendary Red Caughron's first two seasons as head coach of the Tigers. While Ty's tenure as a student was brief, it would play a significant role in shaping his future. "The school embraced me in a way that I had never felt before," Ty said. "They saw more in me than I had ever seen in myself. It just turned out to be a magical time."
Throughout his time at Hampden-Sydney College, that fond feeling about Woodberry stayed with him. After his graduation, Ty began an eight-year stint at Woodberry as a teacher and a coach. The Woodberry he returned to felt different.
"I first came to Woodberry at a time when Mr. Walker's old masters were
still a presence and a strength of the institution. But that cadre of wonderful teachers was heading out the door," he said. "Woodberry needed a little shaking up, and Headmaster Baker Duncan '45 really got the school going again. He brought in some wonderful new teachers who would become favorites of mine."
Among those faculty members was English teacher John Stillwell '45, who also influenced the young Tysinger.
"He and Coach Caughron were the two men who most influenced me when I was there," Ty said. "But lots of people helped me round out and round up my thinking and my direction."
Ty and his wife Dottie spent their newlywed years in a growing community of young faculty couples brought in during the Duncan era. Their sons Andy '86 and Mike '88 were born during Ty's first stint as a faculty member. Soon thereafter, they would move to Covington to run an Episcopal boys' home.
Ten years later, the Tysingers moved to Stuart Hall School in Staunton, where Ty worked as an assistant headmaster under another longtime Woodberry faculty member, Pat Bassett. The two had become friends when they were colleagues at Woodberry in the late 1960s and early 1970s. However, Ty had become more focused on alumni relations and less so on teaching by that stage in his career.
"By that time I had moved into the area of institutional advancement," he said. "I had come to a point where I was somewhat of a spokesperson for the institutions that I represented. Raising money for quality institutions became my driving force."
In 1994 Ty returned to Woodberry as a senior development officer and director of planned giving. In that role, he and former Headmaster Dennis Campbell collaborated on some of Woodberry's most successful fundraising efforts.
"John Grinalds hired me but moved on before very long. The core of my years back there were with Dennis. He was a big picture guy, so he became very open to looking at things a little differently – with some expanded vision."
During their time together, they spearheaded two capital campaigns that funded the construction of Johnson Stadium, Terry Hall, the Manning Family Science Building, and Kenan Hall, among other projects.
"That was an exciting time in the life of the school, and I think he turned over to his successor a school that was in great shape," Ty said.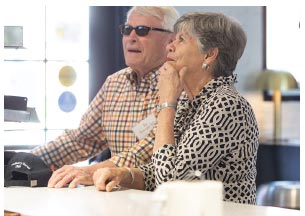 Now Ty and Dottie are making sure their support of Woodberry will continue in perpetuity. Ty is a dedicated class volunteer, and the two have joined the Walker Society by establishing a charitable remainder unitrust, or CRUT. The trust provides income to the Tysingers throughout their life. After their death, the remaining funds in the CRUT become part of the Woodberry endowment funding the Tysinger Family Scholarship Fund.
"When you hit a certain time in your life, you begin to look back on the institutions and the people that have added the greatest amount of quality to your life. And Woodberry is at the head of the pack," Ty said. "I've had the great fortune to work with a number of fine organizations, but Woodberry had me at some really pivotal, formative times. It continued to support me, cultivate my skills, and encourage me in ways that made me very happy about giving back to a place that had meant so much to me."